Digital Bridges to Dance is
A site to collect ongoing experiments in Digital Dance Making, including, but not limited to:
Online Synchronous and Asynchronous collaborations
Dances made purposefully to exist as digital works
Methods for choreographers to collaborate across geographic distance for the purpose of professional artistic development;
Curriculum for dance-based experiential embodied practices that can be used by classroom teachers and community leaders.

Documentation of the research and creative products of Professor Celeste Miller, M.F.A., and Grinnell College Student Researchers:

Summer MAP 2021: Halvor Bratland, Lilith Hafner;
2018-19 Vivero Fellow Obuchi Adikema '21,
Summer Map 2018: Naomi Worob, Obuchi Adikema
Digital Humanities Researcher Summer 2017 Charlotte Richardson-Deppe '19
A concept: How the digital world and dance might play together.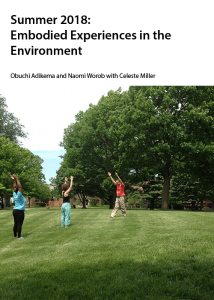 Digital Bridges to Dance began with a 2017 summer research project funded by Digital Bridges for Humanistic Inquiry: A Grinnell/ University of Iowa Partnership funded by the Andrew W. Mellon Foundation. Continuation of Digital Bridges to Dance has been supported by Grinnell College Digital Liberal Arts Collaborative and Mentored Advance Projects (MAP).