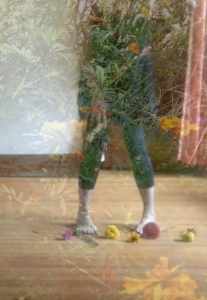 Celeste Miller has made her career as a solo performer, choreographer, writer, community arts animator and innovator in arts-learning.  Awards for her work come from a National Endowment for the Arts Choreography Fellowship, National Performance Network Creation Fund Award and others. Her work has been commissioned by theatres, galleries, museums, community organizations and universities.
Currently Celeste is Assistant Professor in the Department of Theatre and Dance at Grinnell College, a position that allows her to combine her passion for teaching with her investigation of dance as a performing art, cultural practice, political act and a method for the embodiment of ideas and beliefs.  At Grinnell she teaches courses that include "Movement for the Performer", "Contemporary Dance in a Global Context", and "Dance, Human Rights and Social Justice". She is the director of Dance Ensemble/ACTivate.
Current projects include:
Digital Bridges to Dance: an investigation of choreographic practices with a digital component as a core element of the methods for creation, reflection and dissemination. Application of the methods may function as creative and/or pedagogic tools.
Women at Waters Edge: A bi-national (Mexico/USA) collaboration funded by the National Performance Network Creation Fund. Scheduled to premiere at the Florida Dance Festival, Summer 2019.
Once Upon a Time Wolf: A solo text + movement event designed for domestic spaces: living rooms, kitchens, back yards with live music by Chip Epsten.
Medicine in Motion: Supported by a National Endowment for the Arts Creativity Connects award. Lead artist in this partnership between Jacob's Pillow Dance Festival and Berkshire Health Services that examines how the arts, and dance in particular, can be used to address challenges and needs specific to the medical field.
Dancing Dialogic Research (DDR) with Michael Richter (La Paz, Mexico) A methodology of embodied practice as research and investigation.
Celeste holds an M.F.A. from Hollins University/American Dance Festival.